Essential Kneads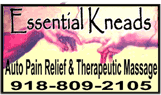 Massage on all age. Soft tissue, deep tissue, reflexology, therapeutic, hot stone, and La Stone. in-home and out calls. Also office Monday-Saturday 9am-9pm, Sunday by appointment only. Alkaline Ionized Water Restructured water with different pH levels that will take any surface water and clean out any impurities so that you are drinking fresh clean water that hydrates the body and once the body is hydrated, when the body is at rest, your brain with do repair and maintenance instead of search and destroy as that is happening to everyone who is not hydrating. We have filters for the shower and also the air you breath. We seek to educate everyone about their body and help them stay healthy at a price that everyone can afford.
Photo Gallery
Click on a photo below to enlarge and begin slideshow.
Large slideshows may take a minute to load.